Jon England
President
Jon has worked in the parking industry since 2001 and has managed numerous parking operations. His experience in the field has lead him to the design, execution, and management of the largest and most complex valet parking operation conducted to date. He actively heads up our Central Florida office located in Brevard County.
Gabe Rabelo
South Florida Regional Manager
Gabe began working in the parking industry in 2008. He started with Ameristar Parking Solutions in 2010 where he quickly escalated through the ranks to become the South Florida regional manager. Gabe oversees high-volume valet parking operations, trains and supervises account managers, organizes parking garage and lot management, and coordinates all South Florida Event Parking operations. Gabe places a high emphasis on employee and customer satisfaction alike. He holds a bachelor's degree from Florida International University, Miami, wherein he completed an extensive coursework in management.
His leadership philosophy in which he operates by is as follow:
"Leaders become great, not because of their power, but because of their ability to empower others".
John Powers
Regional Partner
John is a partner of Ameristar Parking Solutions and currently oversees our South Florida division. Being born and raised in South Florida gives him an advantage of local knowledge and the expectations of our clientele. He graduated Cum Laude from FAU with degrees in Finance and Computer Information Systems. His parking career started in 1994 and started his own company in 2000. In 2009 John joined forces with Ameristar Parking and took responsibility of the SE region. He also currently has his Property and Casualty 220 license which enables him to properly assess the insurance needs of each particular parking scenario to protect each client. He currently lives in Delray Beach and is active in the community. His background of Finance and Insurance awareness coupled with being a South Floridian is instrumental in our efforts to cater to each client with the service and professionalism they need.
Steven Matecki
Director of Operations
Steve has served as an Operations Director in the parking industry Since 2005. He has proven to be a valuable asset to Ameristar and the industry as a whole. He has successfully created and managed parking operations across the state with seamless precision since his introduction to the field.
Nick Saunders
Northeast Regional Manager
Nick has worked in luxury hospitality parking management roles for the last five years. Nick oversees the Mid-Coast Maine region for valet operations from his office located in Brunswick, ME. His knowledge of the area paired with his experience in the industry makes for a perfect fit with local businesses and events.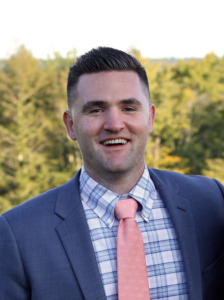 Alex James
Valet Operations Manager, CT
Alex has worked in parking management and event coordinating positions for the last three years. Alex manages the Connecticut region for valet operations from his office located in Farmington, CT. His understanding of the area alongside his skills and innovation in the industry help Alex excel with local businesses, communities, and events.
A native to the region, and an experienced professional in the parking industry, Alex has a wealth of knowledge relating to the culture of the state of Connecticut. Alex is passionate about helping businesses thrive in Connecticut, and has a thorough understanding of what is needed to guarantee guest satisfaction. He operates from his office located in Farmington, CT.
Jared McNally
Regional Partner
Jared is a partner of Ameristar Parking Solutions and currently oversees the Colorado division of APS. Jared began working for APS in 2009 and has had the unique opportunity to fill almost every role available within the company. Since joining APS, Jared has managed hundreds of events, dozens of seasonal and annual valet contracts, and provided in-depth traffic and parking planning for high-volume events, municipal governments, and elected officials. Jared's experiences in the parking industry and special skills in creating traffic and parking maps allow him to design the most efficient and cost effective parking plans possible for our clients.
Jared holds a B.S. and M.S. in Environmental Science from Florida Institute of Technology and owns a Scientific Consulting and Data Management Company called Swell Science, LLC.